Midterm Madness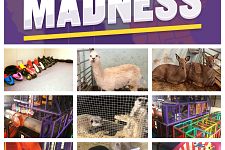 🎉🎉😜FEBRUARY MIDTERM🎉🎉😜
🐮🐷
Sperrin Fun Farm is an ideal facility for a fun filled family day out and letting those kiddies burn off some steam!!
🐮🐷
❄️☀️
Sit back and relax in our HEATED cafe area....while the children make the most of it in our indoor playframes!!
❄️☀️
🐥🐏
Pack a picnic or enjoy hot/cold food in our cafe area!
🐥🐏
😜😜
Lots of indoor play areas for children of all ages, including bouncy castles, bouncy castle slides, pedal go karts, pool table, table tennis, play frames and more!!
😜😜
🐥🐶
Or why not visit some of our beautiful animals including puppies, pigs, chinchillas, rabbits, meerkats, deer, an alpaca, goats and a range of different birds!!
🐥🐶
🎉🎉
Also have a look in our old country cottage and heritage viewing gallery!!
🎉🎉
❌
As many of our larger animals are indoors for winter the field and outdoor activities will not be open at this time therefore we have REDUCED ENTRY during midterm.
❌
- £5 for adults and children
- £4 for oaps
- Babies Under 1 free
- Tuesday 15th February 11-4pm
- Wednesday 16th February 11-4pm
- Thursday 17th February 11-4pm
- Friday 18th February 11-4pm
- Saturday 19th February 11-4pm
***No Booking Required!***
🎉🎉
Come along and join in the fun!!
🎉🎉
***We also cater for birthday parties, schools, nurseries, groups & Summer Schemes. Please do not hesitate to contact us if you require more information!***
info@sperrinfunfarm.com or
07710428729